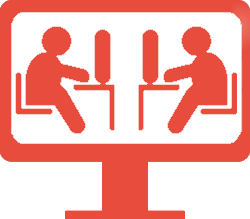 Spendata is committed to delivering value for our customers, and we have the deep expertise to make that happen. Spendata services can assist in building cubes of all kinds, from conventional AP cubes to commodity-specific cubes for contract compliance to custom cubes for RFP analysis. We maintain telephone and email support resources that can assist at any time. Our training programs include conventional (classroom) training as well as our unique "Work Alongside" methodology, where we watch and help as customers master the product themselves.
Consider the most common services dilemma:
If you hire a third party to do the work, you risk paying them forever.
If you take the work in-house, your team will sit through generic training classes that may not address your needs.
Work Alongside training programs solve both of these issues. We use screen-sharing technology to "look over your shoulder" while we work with you — not on dummy test data, but on your actual company data. Together, we move through the training, building your savings data analysis as we go, making sure that you understand how to do every step.
Of course, you'll also have the advantage of working with Spendata, which is designed from the ground up to be easy to use and easy to learn. You won't even have to take notes because 100+ how-to videos are available on demand to refresh your memory.
You can choose from a range of different services alternatives — everything is on the table, from pure DIY to hands-on assistance to full service. All our services are a la carte, so you can start or stop them at any time.